Lower Extremity Constraint-Induced Movement Therapy (LE-CIMT)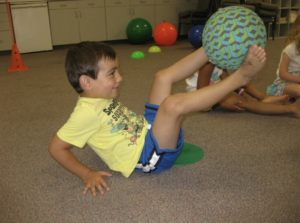 The significant positive results obtained with the Upper Extremity CIMT protocol have led to the development of LE-CIMT, an intervention to improve lower extremity (LE) function.
Research suggests that repetitive practice of functional activities can assist in overcoming "learned misuse" and correcting inadequate LE movement patterns acquired after a stroke.
Following Dr. Taub's research model, intensive supervised motor training activities will be used focusing on movements of the lower extremities. Activities will be individually designed by our Physical Therapists to improve the participant's gross motor skills, strength, balance, coordination, and gait.
Unlike the upper extremity program, the stronger lower extremity is not casted. Rather, the environment is constrained, and the concentrated use of the weaker lower extremity will lead to increased function and correction of inadequate motor patterns. Each child will have 1:1 treatment with a physical therapist throughout the program. Children will be grouped together for specific activities to increase motivation and confidence.
LE-CIMT Protocol:
1. Intensive supervised training delivered for 3 hrs/day for 15 consecutive weekdays.
2. Use of shaping as a strategy for motor training.
3. Application of a transfer package (activities for home/real world environments)
4. Strongly encouraging use of the more affected LE with improved coordination
The transfer package consists of several strategies to facilitate the transfer of the improved motor skills developed during supervised treatment to everyday situations. Criteria for participation: 3 years of age or older and the ability to walk household distances independently. The number of participants in this program is limited.
A phone consult is required prior to registration. Contact Charlene Kurkjian, 404-933-9869, to set up your consultation and to discuss dates and program specifics.
Hope Through Movement With Lower Extremity CIMT
Offering individual intensive therapy from a pediatric occupational or physical therapist with specialized training in CI Therapy.